Bering Optics Super Yoter R 1.5-6x25mm
$3,295.00 – $3,495.00
Description
The Bering Optics SUPER YOTER R™ Thermal Weapon Sight features an advanced 12μm Vanadium Oxide (VOx) 640×480 core resolution. Pairing this with the wide 18° FOV and 1.5 – 6x magnification make this scope ideal for almost any activity including close-range applications such as tight-terrain hunting for hogs to medium-range applications such as coyote hunting.  The wide range of controls and capabilities allow the user to adapt the scope to various conditions and personal preferences. There are 8 reticle patterns including 3 BDC reticles, along with four color options for each reticle pattern. The sight operation is controlled with three buttons allowing easy selection of the options. With the compact nature of this scope, great image, and wide FOV, it can serve as a great handheld scanner as well.
A unique adjustable Stradiametric Rangefinder can be set to the height of the animals, thus increasing the overall usefulness of this feature. Other useful features of the SUPER YOTER R™ is a wide selection of the image adjustment options as well as the image background adjustment and calibration.
The SUPER YOTER R™ is nitrogen-purged, is water-, dust- and shock-proof and shock-rated for .338 Win Mag., 30-06 Spring Mag. The SUPER YOTER R™ is action ready in any environment or light conditions, including conditions when the environmental obscurants such as smoke, dust, haze, are present.

FEATURES
Excellent performer in high humidity conditions
Picture-in-Picture function- 2X multiplied image on a top of the display
Automatic shatter based thermal VOx core with Auto- or Manual calibration
Switchable image polarity: White Hot / Black Hot / Red Hot / Colored Hot
8 reticle patterns including 3 BDC reticles
4 color options for each reticle pattern
Manual control of the image sharpness and screen brightness
Manual control of the contrast
Manual control of the image background balance of white (Cool or Warm)
Ability to save 4 profiles of zeroing calibration data
Stradiametric Rangefinder function to estimate the distance to the targets of manually adjustable target's height
A precise lens focusing mechanism
5V DC external power supply option via a Type-C USB port
Blind Pixel repair tool
Standby mode
Digital Compass
Inclinometer
Battery status indicator
Nitrogen purged
Video out
32Gb internal memory
Built-in internal recording function in .mp4 (video) and .jpeg (image) formats
Wi-Fi capable- allows media recording to the mobile device (iOS or Android App is required)
Quick-Detach (QD) Picatinny mount (BE46025) or LaRue Tactical® QD lockable Mount (BE46025L)
4 years warranty on parts and labor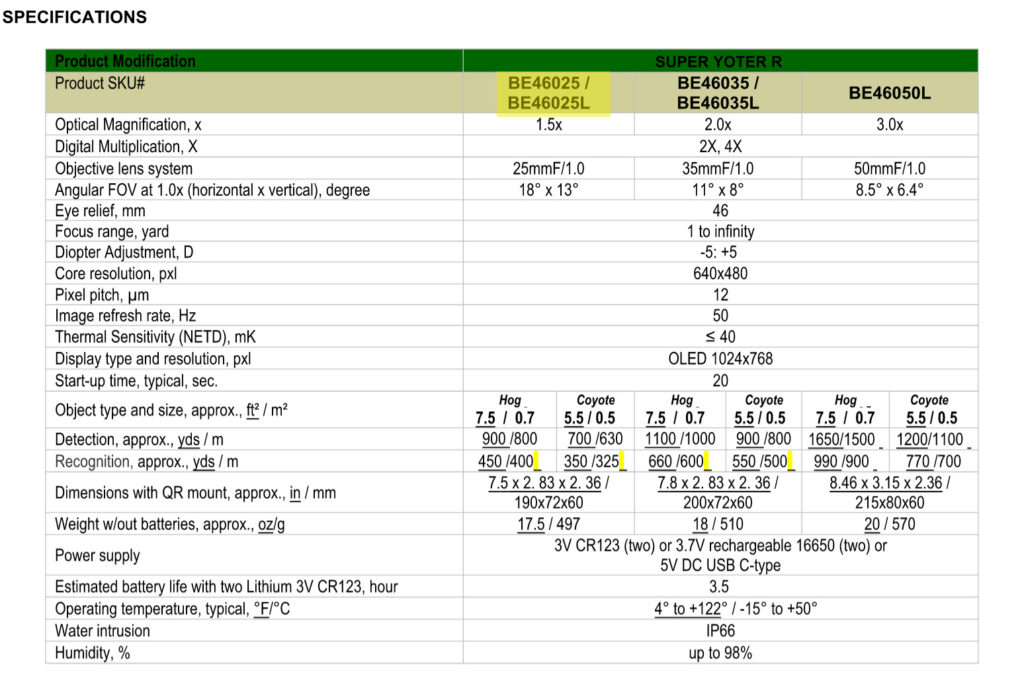 Additional information
| | |
| --- | --- |
| Weight | 2.2 lbs |
| Dimensions | 12 × 12 × 8 in |
| Mount Style | LARUE Mount, QD Mount |